Literary Art And Music Tours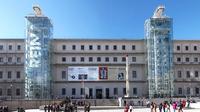 Guided Tour of Madrids Reina Sofia Museum
Literary Art & Music Tours
Price $18.00
While you are in Madrid, don't miss the chance to visit Spain's national museum, Reina Sofia. On a 1.5-hour guided tour led by an art historian, explore the highlights of this museum including the collections of Spain's two greatest 20th century masters, Pablo Picasso and Salvador Dal'. Stand in front of the most famous masterpiece in the museum, Picasso's painting 'El Guernica.' Discover the history behind the paintings of the modern period. Tour is conducted in English and Spanish, with a maximum group size of 30 people.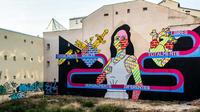 Street Art Guided Tour in Madrid
Literary Art & Music Tours
Price $21.36
This is an unique activity for people interested in graffiti, murals, photography and in-rotation exhibitions through uncommon and unknown spots. Madrid has a cool'urban art scene. Travel back in time with Cooltourspain to the beginning of the graffiti movement and learn how it began to develop. You will start your tour with a visit to La Neomudejar,'located behind Atocha Railway station, which hosted the former Mediod'a metro station and is currently home to the avant-garde centre of Madrid. Enjoy a visit to'La Tabacalera, one of the most famous warehouse in Madrid. The tour will end'at Campo de Cebada. Meeting point: Two big babies statues @ Atocha Renfe Station (Upper level entrance). Follow the "Street Art Tour"/ Cooltourspain board. Meeting time: 11.00 AM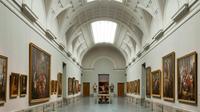 Madrid Golden Triangle of Art Walking Tour
Literary Art & Music Tours
Price $59.00
Make the most of your time in Madrid with a 7-hour tour to the best art museums Spain has to offer: Prado Museum, Reina Sofia Museum, and the Thyssen Museum, referred to collectively as the Golden Triangle of Art. With the guidance of an art historian, see from a short distance such masterpieces as the 'Las Meninas,' 'El Jard'n de las Delicias,' 'El Guernica,' and 'Les Vessenots.' Tour size is limited to a group of 30 plus your guide.